E-cigarette And Vape Market Size, Share & Trends Analysis Report By Product (Modular Devices, Rechargeable), By Distribution Channel (Online, Retail), By Region (APAC, North America), And Segment Forecasts, 2023 – 2030
Report Overview
The global e-cigarette and vape market size was valued at USD 22.45 billion in 2022 and is expected to grow at a compound annual growth rate (CAGR) of 30.6% from 2023 to 2030. The public's growing understanding of e-cigarettes being safer than traditional cigarettes, particularly among younger people, due to numerous studies conducted by medical institutions and associations, is forecasted to fuel market growth. In addition, it is anticipated that the manufacturers' wide range of customization options, including temperature control and nicotine dosages, will help the product demand. Moreover, growing e-cigarette technologies like pod systems and squonk mods have gained popularity and user adoption in recent years.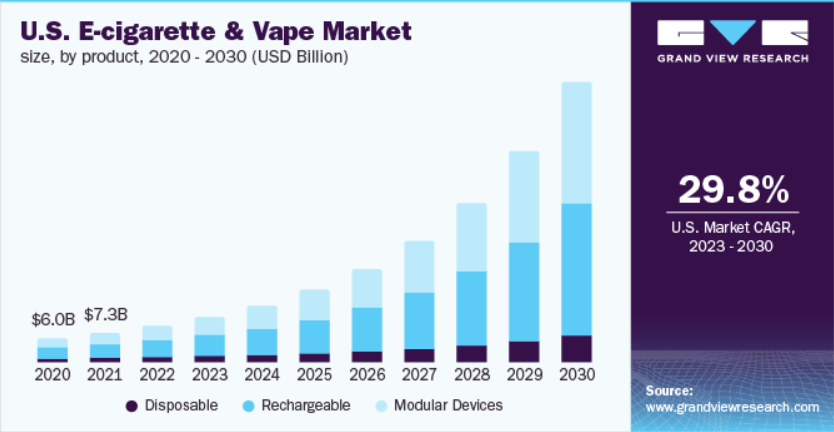 E-cigarette and vape providers have developed several COVID-19-based marketing methods to boost product sales amid the COVID-19 pandemic. The use of e-cigarettes and vaping equipment is expected to increase over the projection period as people adopt safer alternatives to smoking. When e-cigarette and vape device stocks in physical stores started to run low, sellers began selling their items online and giving out hand sanitizers and face masks in exchange for vaping product purchases. E-cigarettes and vaping have changed significantly in 2017, with various flavors and more power-efficient devices. These products are available in a variety of flavors, including menthol, tobacco, fruits & nuts, and chocolate.
An e-cigarette or a vape device that uses these tastes emits fragrances. In addition, these devices' rising cost-effectiveness has increased customer acceptance and is anticipated to fuel industry expansion. There has been a significant increase in sales of atomizers and e-liquids in North America and Europe markets due to the increasing demand. Many nations, including the U.K., have legalized e-cigarette use, which has boosted industry expansion. In addition, vape shops have been set up where clients can go in person and taste the products and e-liquid flavors before buying. Tank e-cigarettes have continued to be the most popular device type in England.
Still, pod e-cigarettes have overtaken them due to the rise in JUUL (Juul Labs, Inc., an American electronic cigarette manufacturer) use. Industry participants are well-known companies with sizable market shares. Corporations have mostly invested in e-cigarettes since they are anticipated to be a successful alternative to tobacco use. However, the market is home to several small firms that provide effective vaping products and e-liquids, building a sizable consumer base. To keep their prices low, small businesses typically outsource the production of e-cigarettes to Asian nations like China. However, restrictions placed on the sale of vaping supplies and e-liquids by local authorities in many nations, including the U.S. and India, have slowed the market's expansion.
Furthermore, it is challenging for retail customers to import vaping devices for personal use due to strict trading rules. However, it is anticipated that laws governing conventional cigarettes would recognize e-cigarettes as a healthy alternative to tobacco use, thereby regulating the technology for secure distribution and use. Moreover, the vaping industry has established several associations to combat anti-vaping regulations and regulate the business for oversight, thereby fueling the expansion of the market for e-cigarettes and vaping.
Product Insights
The rechargeable product segment accounted for the highest share of more than 43.35% in 2022. Rechargeable devices are predicted to become more popular due to their affordability and ability to do away with the requirement for ongoing supply purchases like cartridges. In addition, clients who make their e-liquid can avoid buying pre-filled cartridges. Particularly seasoned smokers find that buying recharged e-cigarettes is cost-effective. Rechargeable e-cigarettes are also becoming increasingly popular among young people in many important countries because they emit less smoke and can be charged even through a USB port.
The modular devices segment is anticipated to register a significant growth rate over the forecast period. The devices' high-level customization capabilities to combine various functions and components are the primary factor driving the segment. Depending on individual needs, these parts & components change the flavor & volume of vapor the device produces. The regular organization of various vaping events, including vape conferences and competitions, boosts the need for modular devices.
Distribution Channel Insights
The retail store distribution channel segment dominated the industry in 2022 and accounted for the highest share of more than 83.30% of the overall revenue. E-cigarettes were formerly offered for sale in retail locations like vape shops and gas stations. These stores helped clients choose from a variety of equipment and e-liquids. Vape shops are allowing clients to try out and test these devices before making a purchase decision, which is contributing to the retail store segment's growth during the projection period.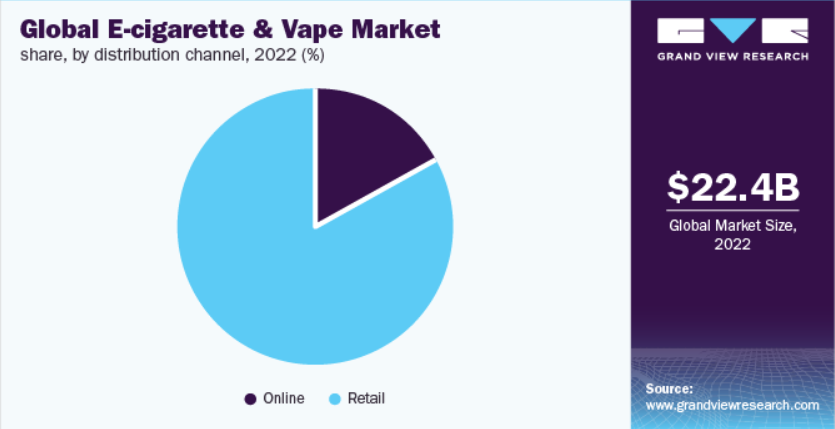 The online distribution channel segment is anticipated to register the fastest CAGR during the forecast period. People are increasingly buying e-cigarettes and vape products online because of the advantages of competitive pricing, convenience, and a greater selection of goods available on these platforms. The Asia Pacific region has seen the emergence of numerous internet stores selling e-cigarettes. The region has also experienced growth in the market for e-cigarette goods, which has prompted vendors to offer e-cigarettes for sale online.