Are you a vaper who's boarding a plane soon or is making plans to board a plane but isn't sure if whether or not you can bring your vapes on board? Well, I am here to walk you through this and tell you all about the TSA decisions on vapes on board and how to safely carry them!
Can You Bring Vapes on Airplanes?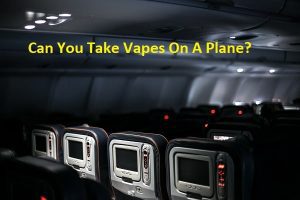 The shortest answer is yes, you can! Though it doesn't mean that there aren't any restrictions. For instance TSA states that any electronic cigarettes' that require batteries must go on your carry on bags and they must be shown when going through security.
What About E-juices? Can You Bring Them With You?
Yes you can, if you want to bring more than 100ml of vape juice, you would need to bring them in your checked bags. If it is less than 100ml or 3.4 ounces then it can definitely go on your carry on.
What About Cartridges, Pods or Pens? Can I Board a Plane With Them on Me?
Yes!! as long as they are on your carry on bag. When passing through security, you must make sure to show them to a TSA agent before putting them on a tray.
Why Can't Vapes and Batteries be in a Checked Bag?
Batteries can present a fire risk, if there is a fire in the cargo hold, the possibilities of going in there and extinguishing the fire are about 0 percent. Therefore it would be easier to extinguish a fire on a carry on bag that's placed above your head or below your feet.
Can my Vape Batteries be Charged on the Plane?
No, there has been about 48 instances of fire due to vape batteries on a plane for which it is best to not try your luck by charging your batteries.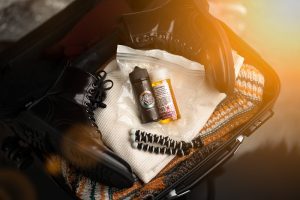 Can I Vape while Being on the Plane?
No you cannot! As a matter of respect for the rest of the passengers and the flight itself. The consequences of vaping in a plane include an emergency landing as Airlines cannot take any chances of fires while flying, a fine up to $4000, and even getting arrested.
Are You Flying Long Distances? What are Your Option for Substitutes?
Two great options to take the edge off before flying are nicotine pouches and HHC gummies. Nicotine Pouches are smoke-free, odor-free, and vapor-free. At Eight-Vape we offer NIIN, which are Nicotine Pouches that comes in five different flavors and are available in either 3mg or 6mg of nicotine level. HHC on the other hand is a Hemp-Derived product that can help you calm your nerves. We offer gummies that are not very strong but effective. If you are new to the Hemp-Derived world, these are perfect to introduce you to it as they are very mild. Once you get used to them you can double up on doses.