What are coils? What is the purpose of a coil?
Before we understand what a coil vape is, we need to figure out what a vape coil is and what it does in an e-cigarette module.
A coil is essentially a resistor that the battery module uses to superheat the vapor juice into vapor through an electric current. The thickness, structure and material of the coil determines the resistance of the coil through the law of resistance, from which different coil vapes have also evolved.
Coil vape has become a game changer in recent years due to the competition between major vape manufacturers. One of the biggest evolutions in coil technology has been the breakthrough of mesh coils. It's worth noting that this started with Aspire thinking outside the box and revolutionizing the way coils heat up to produce vapor by allowing more chimneys to become coils and thus increasing the surface area.
Why is the surface area of the coil important?
The coil works because the e-liquid is heated to produce vapor when it comes in contact with the coil. If the surface area of the coil is larger, the more e-liquid will be heated at one time and the more vapor will be produced by the heating. In addition, this may also give you a stronger flavor. This is because, in recent years, vape makers are looking for more vapor production so that they can provide a better vaping experience.
Difference between Regular Coil Vape and Mesh Coil Vape
Common Coils
A common regular coil is a certain length of wire coiled into a spring shape. Common coils have been around for a long time, are easy to obtain, and it comes in many different types, you may use single coils, dual coils, triple coils, or even quad coils. For those who like DIY coil vape, regular coils also have more options and are friendly for newbies to get started.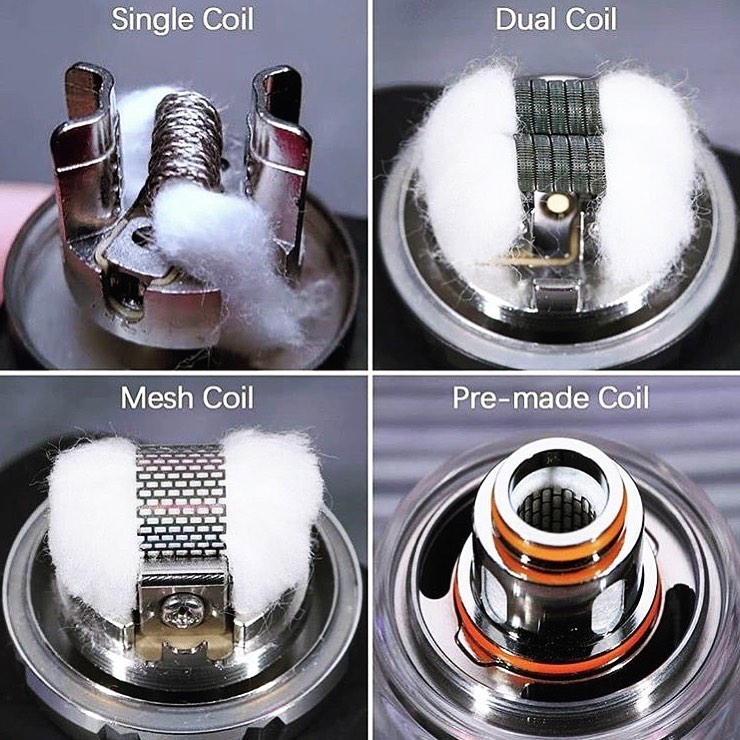 Mesh Coils
Unlike regular coils, mesh coils are usually a super thin piece of metal mesh that is then bent over your wick. The construction of mesh coils means they heat up evenly and heat up faster, with a larger contact area, producing better smoke and flavor. However, mesh coils may require frequent infusion of e-liquid and proper installation.
The biggest difference between the regular and mesh ones lies in the way electrical energy is converted into steam.
Regular coils seem to achieve steam production through brute force. The regular Coil Vape compensates for the smaller surface area primarily by increasing the number of coils and the power input. A mesh coil, on the other hand, provides a larger heating surface area directly to get a larger cloud and does not require as high a wattage as a regular coil.
Mesh coils have a longer life than regular coils.
Mesh coils last longer than regular coils because the surface area heated by mesh coils is more uniform. Some of the regular coils are subjected to very high levels of heat and may be at risk of burning out in the long run. In addition, mesh coil vape saves battery. This lies in the fact that they usually require less power than multiple normal coil configurations, but in fact the clouds produced are pretty much the same.
Currently LUCKEE's disposable e-cigarettes are using the new mesh coil technology to create different styles of coil vape, such as the MESH 600, which is directly named after the mesh coil, although one can only smoke 600 puffs, but still consistently use mesh coils instead of ordinary coils, the purpose is to produce more smoke and bring better taste. The stylish and compact coil vape, you can check our website for details.